8 Online Side Hustle for Busy Dads
advertisement - scroll to continue
8 Online Side Hustle for Busy Dads
As a father, you have many obligations to your family. One of these obligations is providing basic needs for the family. There are many reasons why you will need a side hustle, it may be to pay bills, add to your primary income, or want a side hustle that can turn into a business one day.
As of 2017, 89% of American dads work full-time, and most of them made efforts to have a second income coming on the side.
advertisement - scroll to continue
As we know that salary most time is not always enough as expenses keep rising. One needs to create a second, third channel to augment our primary income. Even as a busy dad, you can always create a side hustle that can fit into your busy schedule.
Key Highlights
🎯 A dad could transfer knowledge and skills from his full-time job and turn it into a side hustle.
🎯 Make sure your side-hustle doesn't interfere with your full=time job until it becomes stable.
🎯 Most fathers take up a second job to better provide for their families.
SEE ALSO: 15 Side Hustles That Make A Lot Of Money Without Selling Your Soul
SEE ALSO: 10 Best Side Hustles For Civil Engineers
advertisement - scroll to continue
SEE ALSO: 9 Side Hustles You Can Start With $100 Bucks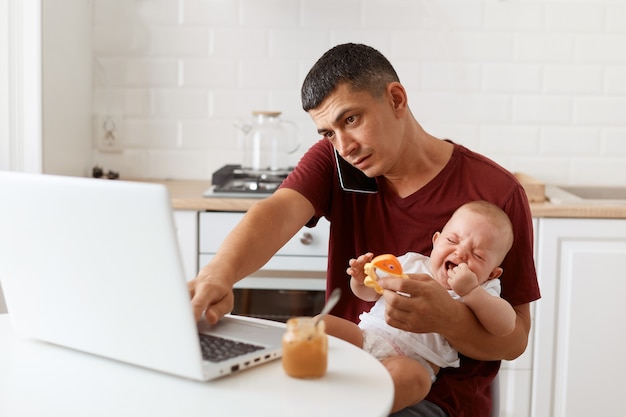 1. Flipping
One side hustle that is perfect for dads is flipping. As a flipper, you get to find amazing stuff and resell them. A flipper is a person who finds items for free or at low prices and sells them at a higher price. You can flip just about anything: phones, computers, laptops, and cars. You can flip just about anything.
Go on Youtube or a reality tv program about flipping you will see people flipping from cars to houses. For example, you can buy an old house, renovate it and sell it for a higher price, you remove your cost price, save your profit and redo the whole process.
2. Ride Sharing
As a Working dad, you can earn a good amount of money from sharing. With services like Uber, Lyft, Bolt, and other services out there. All you need is a car and a smartphone and you are in business.
You can even gain extra income by driving people to the area you work and they will pay you if you charge lower than they pay normally.
With Ridesharing, you can expect to earn at least $500-$1500, per month. Most people earn more than that.
3. Blogging
If you are passionate about writing and a subject, be it technology, traveling, or business then blogging might be the right side hustle for you. As a working dad, you get to experience so many things every day, like in your work, your friends, and your personal life. You can turn all your experience into a blog and monetize the blog.
Some ways to monetize your blog are through ads, affiliate marketing, sponsored posts, merch, or selling your products.
advertisement - scroll to continue
You don't need to be a tech expert to start a blog, it is as easy as turning on a tv. With a domain name, WordPress, and a host you get started now.
4. Freelance Writing
Another hustle you can do if you like writing is to freelance. You could freelance as a general writer or as a specific niche writer. You can specialize as a Business writer, technical writer, resume writer, or academic writer.
There are many niches you can write in. Some of the best services you can use to sell your work are services like Upwork, Fiverr, Freelancer, and many other services like this one.
5. Tutoring
If you are good in a particular subject or a particular skill then tutoring can be a good hustle for you. You can use your profession as a resume to get students.
For example, if you are a programmer in your day job, you can teach programming classes to students interested online. You can teach them from a real-world point of view. You can use services like Teachable, Thinkific, Kajabi, or even Zoom to host your classes.
6. Photography
Photography can be a good side hustle for you. As a working man, you may not have time to take pictures during the week so you might have to accept gigs only on weekends. The life of a photographer is all about creativity and inspiration, so you might want to carry your camera everywhere you go to take pictures when you can.
You can sell digital copies of your images on your site if you have one or sell them on services like Adobe stock, shutter stock, or any other image marketplace service.
advertisement - scroll to continue
You can take pictures every day and sell them when you get back home. And you can also find in-person photography gigs online with services Flexjobs, Upwork, Fiverr, and JournalismJobs.com.
7. Start a YouTube Channel
YouTube has become a side hustle and a full-time income for thousands of creators out there and it can be one for you. If you have ideas you know people will love and you can explore them well, then you should start a YouTube channel.
Most people vlog their daily life and upload them to YouTube. This is called vlogging. Pick any topic tech, gaming, sports, music and you will find creators who explore them on YouTube.
Note: To monetize a channel with YouTube Ads, you need one thousand subscribers and Four thousand watched hours.
8. Sell Stuff Online
As a working Dad opening a physical store can be a lot of work for you, so why don't you open an online store and sell stuff from your garage. This is how the process will go,
You open an online store
Upload your products
Sell your product
When you get home, package the order and send it to the customer.
One place you can open a store and get access to millions of customers is Amazon.
On Amazon, you make items and sell them or you can buy items and resell them. Amazons allow third-party sellers to open a store on their platform. The best thing about Amazon is they take care of logistics for you, they will help you deliver your package to the buyer.
Final Thoughts
The list above discusses 8 legitimate side hustle you can start as a working or stay-at-home dad.
The best thing about the gigs discussed in the list is you still have time to spend with your kids. Pick one or two from the list and in time you will start making good money from them.